Orthodontics is synonymous with beautiful, healthy and straight teeth. As a branch of dental medicine, orthodontics adjusts teeth by moving them in an aesthetically and functionally optimal position. What's more, orthodontic "straightening" is a procedure which prevents gingivitis, that usually precedes periodontal diseases, which can lead to the formation of the so-called pockets and possibly, tooth loss. Today, orthodontic treatment has advanced to where it allows for a patient's comfort and doesn't interfere with day-to-day activities. Such is Invisalign, a safe and comfortable orthodontic treatment that has many advantages in comparison to the classic orthodontic treatments. Using Invisalign, the position and inclination of teeth are adjusted in order to be able to place implants in an optimal position and then create the desired smile with veneers or crowns. This is pre-prosthetic orthodontics.
Furthermore, on the topic of smile harmony and aesthetics, when looking at the position of the lips, teeth, and gums, we must mention the dentolabial analysis and smile analysis. In addition to smile design, both are important factors in the teeth aesthetic (size, color, inclination, …).
In theory, the upper lip it should not be too high to reveal too much gum tissue (gummy smile or gingival smile), or too low to cover over half of the front teeth. With age, teeth show signs of wear and become less visible, which is considered aesthetically displeasing. The firmness of the lips decreases, resulting in an increase of visibility of the lower teeth and decrease of the visibility of the upper teeth. The number of teeth visible when smiling can vary from just 6 (from canine to canine), 8-10 (from premolars to premolars) or even 16 (from molars to molars).
Balance, symmetry, equal visibility of teeth on the left and right side, the connection of the lip and the visible edges of the lips, and smile progression (the more a person smiles, the more teeth are visible) are considered to be the properties of a beautiful smile. The assessment of tooth visibility and it's correlation to the lips is a key parameter in determining the future design of a smile.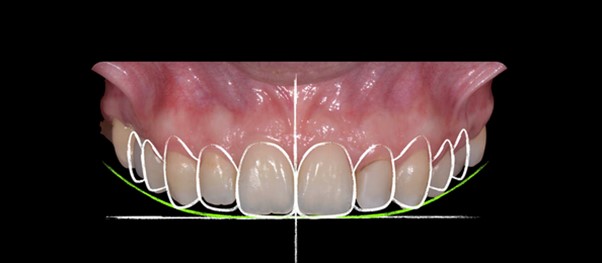 To be continued…
For any questions, advices or booking an appointment:
+385 51 718 050
dr@jelusic.com
Damir Jelušic